Where leisure time is precious,
welcome to our world....
Vilamoura is one of those rare places where everything has been designed for those seeking the highest quality of life. Conveniently located in the Central Algarve area of Portugal, it is one of the largest and most sophisticated resorts in Europe, featuring an extensive selection of leisure pursuits and international class facilities.
At the heart of Vilamoura is the marina which has the capacity to berth over 1,000 vessels. The marina is surrounded by large hotels and luxury holiday homes as well as a large casino and numerous restaurants and vibrant bars. At the far corner of the marina, it is possible to charter boats for big game fishing. There are also facilities for jet skiing, parascending and even scuba diving. Close by there are also a number of sports clubs, golf courses and many night clubs. Tourism in Vilamoura is extensive and well-developed, with many different resorts with ratings from three to five stars. This is a substantially higher average than the surrounding areas, which have ratings varying from two to four. As a consequence of being mostly privately owned, the town is very opulently designed. If you're a property owner you'll qualify to join the Vilamoura Public Bikes system. This is a network of 32 stations with a total of 150 bicycles. Each station includes collection points to park bicycles, and registration posts to read user cards. The network covers the whole of Vilamoura, both its business/tourist and residential areas, and the system is designed to allow users to rent bicycles and return them to any station, therefore avoiding the need to go to a central point to collect or return them. The cost is around € 30 per year.
For the avid historians there is a preserved Roman site and museum providing an insight to the area's past. Originally a Roman fishing town, the ruins include baths in which the mariners used to bathe.
Vilamoura
Willie's Restaurante
Excellent international-influenced gourmet cuisine from Willie, recognised as one of the Algarve's top chefs. Relaxed, cosy atmosphere. One Michelin star. . www.willies-restaurante.com
Restaurant
Villa da Vinci
We take pride in cooking delicious traditional Italian dishes to serve to all and our friendly staff are keen to help you enjoy your dining experience. Perfect for a business lunch or a leisurely evening meal. Large car park. Fantastic terrace.
Property of the month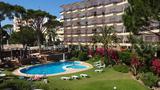 Vilamoura North East
excellent two bed apartment for reduced price
EUR 130000